Law Firm Marketing
At On the Map, we understand that capitalizing on Google and mobile searches is a unique struggle for lawyers. Your digital marketing plight is different than the struggle other industries go through. It requires a specialized set of skills and knowledge due to the strict rules of ethics you have sworn to abide by throughout your career.
Ultimately, your digital marketing shouldn't wake you up at 3am. We're sure your cases are stressful enough already, and being penalized for violating rule 7.1 of the Bar Association isn't something you need to be worrying about. At the same time, you want to reap all the wonderful benefits digital marketing has to offer (i.e. $$$$). Our company is consumed by helping your law firm rank without taking dangerous risks.
This article is intended to educate you on how online marketing works and what tactics we use to make your online presence generate qualified leads that were acquired in an ethical and sustainable way.
Law Firm Marketing Trends in 2017
We are in an exciting and ever changing time for digital marketing. There is incredible potential for generating huge profits through online sources if it's done right and put in the hands of the right company (On the Map, for instance). We have proven online marketing formulas for law firms:
At the end of the day, a healthy online marketing strategy is pretty much non negotiable at this day and age (even for the very best attorney). In fact, 70% of law firms have generated cases through their websites. Traditional forms of marketing may have worked once, but with the rise of digital marketing they are rapidly becoming obsolete. We compiled data across an array of different marketing mediums to see how they compare to each other. Spoiler alert: digital mediums of marketing took the cake by a landslide.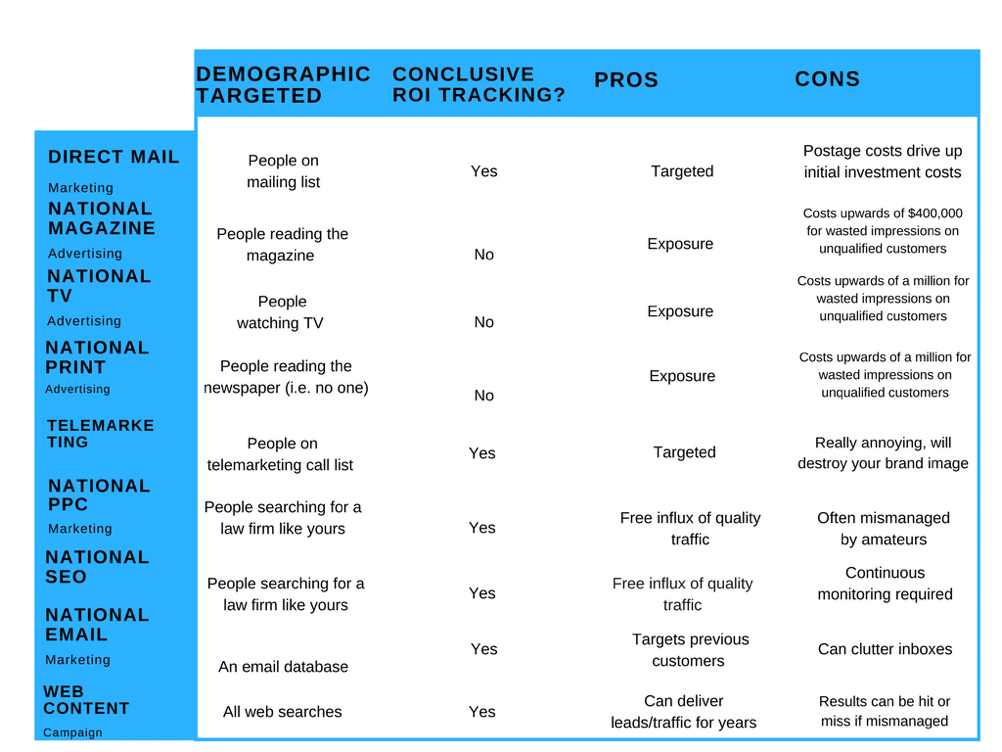 With effective digital marketing, law firms should typically expect an ROI between $10-$20 gross for every dollar spent. That means if you're spending $10,000 a year on marketing you should see a return of $100,000. Of course, some marketing efforts are more effective than others, and the real key to an effective campaign is balancing multiple marketing channels. The bottom line is, if you're building a marketing campaign from the ground up, it should to take you 2-3 months for your bottom line to blow up.
Digital Marketing Platforms Guaranteed to Increase Revenue (Don't Miss Out!)
There are four marketing platforms guaranteed to catapult your ROI and your brand visibility through digital marketing, they include:
Why Your Law Firm Could Be Making More Money Using Digital Marketing
Digital marketing allow your law firm interact and engage with an "infinite" audience. There are no barriers of distance that exist online, but more importantly, SEO helps drive clients to your page who don't even know they are looking for you yet. A client who is seeking an attorney often doesn't know they need an attorney, but they know they have a problem. So they begin searching for answers to their questions and potential solutions to their problem. For example, a potential client is statistically just as likely to search "will a DUI affect my immigration status?" as "immigration attorney New York." If you can answer a potential client's questions with quality content on your law firm's website and blog you are setting yourself up to be found in search results, and when you give your potential client's the information they need that creates a bond of trust. They won't want to hire anyone else but you.
With digital marketing there is no guesswork in determining what is working and what isn't. Google analytics answers a multitude of questions about your website, such as:
What marketing tactics drive the most traffic to my website?

What blog content do my visitors like the most?

What websites send traffic to my website?

How many people visit my website?

Where did my converting visitors come from and go on my website?

Which pages on my website are the most popular?
Law Firm Marketing – The Bottom Line
There is huge potential in the value of digital marketing; however, as a lawyer you must approach this digital money making machine with caution. You must be sure before hiring a company that they are capable of marketing your firm ethically. While Google's algorithms have developed and changed dramatically over time, one factor has remained constant: Google wants high quality content. The content you produce must be original, correct and relevant.
At On the Map, relying on data is embedded in our way of thinking, which has come in very handy for the many law firms we have built a digital presence for.  We use our data driven way of thinking combined with our experience marketing for law firms to help businesses outrank their competition across. We believe in the integrity and quality of our content, and we hope you wouldn't settle for anything less.