Rank #1 with
Franchise SEO

Services that Deliver!

Our results speak for themselves…
Escape Room
Raleigh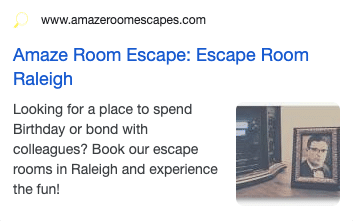 MSV:

1400/Month
CPC: $1.42
Durham
Escape Room


MSV:

1900/Month
CPC: $1.82
Wake Forest
Escape Room


MSV:

170/Month
CPC: $2.18
The Best SEO Practices for Your Franchise Business
Franchising offers aspiring owners a ready-made way to run a business. However, this plug-and-play approach does not extend to its digital marketing, particularly franchise SEO.
The SEO needs of a franchisor are different from those of its franchisees. What is more, each franchise location has unique prerequisites that would not be addressed sufficiently by a generic approach.
To make things worse, it can be difficult for search engines like Google to sort through different pages of the same brand with many locations. That is why multi-location franchises present a unique challenge for local SEO.
Still, this challenge has to be met as the franchise's success, or failure relies heavily on local visibility. By extension, so would the success of the entire franchise company.
While it is true that large franchisors should never leave smaller franchisees to fend for themselves when it comes to online visibility, employing a blanket franchise SEO strategy would not work.
With that said, is there a way for each franchise location to do well in search rankings without bleeding the company's marketing budget dry?
The short answer is yes.
By applying the following customized SEO strategies to your website and applying the necessary tweaks, you can gain more ground in search engine rankings, reach more of your target audience, and convert them into satisfied paying customers.
SEO Website Analysis (KPI's)
Optimizing your website is important to match the behavior of your target audience. This will help you translate your marketing goals into actionable solutions. The first step in this direction is analyzing your website in terms of several key performance indices or KPIs.
Among the most fundamental KPIs are the number of sessions and users for a given period. It distinguishes between new and returning users, which have different implications on the performance of your website.
Another KPI that is often looked at is the bounce rate, which indicates your content's fit for the user's needs. It is helpful to gain a quick evaluation of the organic traffic that goes into your website. The lower the bounce rate, the higher is the average session of each user and the number of pages viewed for every session.
The conversion rate is the next KPI that bears much consideration. It is a measure of how successful your website is in compelling a visitor to take profitable action. For instance, if one of your website's goals is to sell a product, it measures how effective your website is in converting a visitor into a buyer.
Other KPIs focus on the performance of individual pages. Metrics such as the amount of time a visitor spends on an individual page or URL, the page's load speed, and browser compatibility can be used to gauge the quality of traffic that your pages attract and how effective your content is in meeting your visitors' needs. In many ways, it is similar to the bounce rate.
Once you have taken stock of your website's current state, you have a clearer picture of how to pursue your SEO campaign and focus on your SEO franchise opportunities more efficiently.
Keyword Research
Before you can start applying other SEO strategies, you need to find out first what keywords your target market is using when searching for a product or service similar to yours. This requires a deeper understanding of your potential customer's buyer persona.
Once you have your list of relevant keywords, you would likely see a significant variation on the search volume from one keyword to another. While you may want to target the higher-volume keywords, you would need to put in more work to be competitive and achieve higher rankings in them.
Normally, the top ten results for highly competitive keywords are occupied by big-name brands with significant marketing resources. Trying to outrank them may take up too much of your time and effort. Ultimately, the end may not justify the means.
On the other hand, targeting low-volume keywords may not yield the results you want for your business. The amount of traffic that it could generate might not be enough to explain the marketing budget you put into it.
If you feel that you don't have enough resources to compete in high-volume keywords but do not want to be left out by the competition, one option is to target low-volume but highly specific search terms, known in SEO marketing as long-tail keywords.
A long-tail keyword often has distinct advantages over keywords with thousands of searches per month. For one, it is more focused on your target customers.
As an illustration, consider the footwear industry:
While the keyword "shoes" may expectedly receive more hits from search queries, it is terribly ambiguous. Even if you manage to rank highly in it, many of the visitors that it draws to your website would most likely be after a different product or have a different need. The increased traffic does not translate to high-quality lead generation, which you need for more conversions and, ultimately, sales.
On the other hand, users who input more detailed and specific keywords are more intentional in their search. They use search engines with a motivated intent to purchase a product, hire a service, or fulfill any other need, making them more amenable to being converted once they land on your pages.
To use the previous example in the footwear industry, you can try to compete in the long tail keyword "best basketball shoes for 2020" instead of the offhand "shoes" or "basketball shoes" keywords.
On-Site Optimizations
Aside from keyword research, on-site optimization is one of the basic foundations for franchise SEO. It is the practice of making your website more visible to search engines by posting high-quality and relevant content, then optimizing its headlines, HTML tags, and all the images used. In the process, you are making your website more credible, trustworthy, and useful to potential customers.
Besides giving more value to your target market, on-site optimization will put you in the direct line of search engines' sight. If they identify your pages as relevant to search queries and, therefore, useful to the searcher, they will reward your website with a prime spot in their search engine results pages.
Over the years, search algorithms have become more complex and much better at understanding what the users are looking for based on their search queries. This allows them to deliver the most appropriate search results to meet the searcher's need, whether it is navigational, informational, or for purchases.
To make sure that your website remains competitive as search engines continue to evolve, your content must be visible not only to users but to search engines as well. You must consider expertise, authoritativeness, and trustworthiness with each content you post.
The title tag for each content figures prominently in the browser window and search engine results pages, immediately providing an insight into what the page will be about. This is important not only to the user but also to the search engine as well. A good title tag will help both decide quickly if your page is relevant to a specific search query.
The meta description that appears right below the title tag is equally impactful to search rankings. In the same manner that the title provides context to users and search engines regarding the content, the meta description must also effectively encapsulate the message of the page, so both can easily judge your page's relevance to the search query.
When it comes to your content, header tags' strategic use can make it easier to read and digest, which can directly impact your search rankings. Although they are not as critical as the previously discussed elements, they still serve an important function for users, ultimately searching for search engines.
Niche-Specific Link Building
Historically, link building is one of the biggest factors that search engines consider when ranking web pages. It was, and still is, an extremely telling sign about the authoritativeness and credibility of a web page, such that it still holds sway in search rankings.
Still, a lot of things had changed since the old days of SEO when black-hat link-building practices achieved some level of success. Back then, spammy tactics were able to boost the amount of a website's link artificially. It was the process of building links instead of earning them honestly.
Today's search engines have wised up considerably, though. Search algorithms have gone through a lot of iterations enabling search engines to detect contrived links. This practice is no longer considered for search rankings.
Even better (or worse for black-hat practitioners), search engines penalize such practices, that it is possible to lose ranking points when you are caught engaging in it. In the end, you expend some energy and resources only to lose ground in search rankings and be banished into SERP obscurity, so questionable link-building practices must be avoided at all costs.
Whichever side of the franchise world you are on, a good and honest link building strategy would involve posting relevant content that users will find useful and other websites will find credible enough to link to.
At the end of the day, your goal is to meet the needs of the consumers. Search engines are only there to make sure that their need and your solution align perfectly. As such, most of your link building strategies would depend on your target audience, which means that you must gain a deep and meaningful understanding of what they need before you dive into the process.
Doing research is your best tool to achieve this. This may sound daunting, given the vast number of potential customers you want to reach. Fortunately, numerous online tools can help you understand better who your target customers are, what they want or need, and how they go about searching for the solution for it.
Using your long-tail keywords and knowledge of consumer behavior, create and post content that gives them information and value instead of blatantly selling them your products or services. This approach is much more effective in connecting your products or services with high-quality leads that are much easier to convert.
As you create more and more relevant content under a given niche, you are also accumulating a library of linkable assets. This will lay a strong foundation for your next step, which is networking.
While your web pages are strong link assets in their own right and can passively earn your website, some links, networking, or reaching out to other industry players can help bring in more.
Broken link building is a great way to expand your network and earn links in the process. If you are new to the term, it involves seeking broken links on other sites in your industry and offering to link your website instead.
This approach is effective in two ways.
First, the other websites' owners will be thankful to you for pointing out the broken links. Second, you can add value to their websites by offering a link to your high-quality pages.
Another way to build links is by tracking all pages that mention your brand and request a backlink if it does not have one yet. With their inherent interest in your product or service, they are more likely amenable to giving your website a backlink.
Lastly, you can engage in internal contextual linking. This simply means linking your web pages to others, which are contextually the same. This will make it easier for search engines to crawl and index both your pages under the given niche.
Customized Content
One of the best ways for your franchise to reach as many local customers as possible is by using customized content containing location-based keywords. This gives your website a higher chance of showing up in location-based searches.
To demonstrate further, let's take another look at the previous example using the footwear industry.
A user in Miami who is very deliberate about looking for a pair of basketball shoes would most likely key in "best basketball shoes in Miami" in the search query. In this situation, it is not enough to rank highly in the product or service category. You must take into consideration the location of the searcher.
Strategies in local SEO for franchises like this one is helpful in distinguishing one location from another. Since the brand is already established, it would add more value to your target customers if they can find your brand based on their location.
Aside from the exact location, you can also include local landmarks, tourist attractions, or regional names in your target keywords.
Custom Reporting
Not all business owners are privy to the intricacies and subtle impacts of SEO. In addition, running a business, even a franchise, is a complex undertaking that requires much time and effort, leaving next to nothing for other minute details such as the brand's SEO efforts.
Still, these types of information are extremely helpful in making decisions that can make or break a brand.
As such, it is important to find ways to communicate the importance of optimization and illustrate the value that it brings to the brand in a way that is easy to understand and digest. This is where custom reporting comes in.
Franchising SEO marketing has been part of the industry for some time now, such that experts have developed ways of streamlining some activities. This includes reporting information on key metrics of SEO performance.
Data such as an overview of the competitive analysis will show how your site is faring compared to direct competitors. It highlights critical measures such as the search visibility of your link profiles, featured snippets, and target keywords.
For a more thorough report, you can use the full competitive analysis. More detailed than the previous approach, it shows in-depth comparisons of links, Domain Authority, keyword performance, and other essential SEO elements.
A full site audit report provides the most thorough and in-depth insight into your site's health. It includes actionable information such as critical redirect issues, crawler warnings, metadata issues, and web page content problems.
On the other hand, a campaign overview report is appropriate in providing information on your site's campaign. Aside from search visibility, the campaign dashboard will show site health, link data, and traffic.
If you want more focused information, custom reporting can be modified to meet the specific need. For instance, a link analysis report can be generated if the area of concern is the link profile of the website. It includes crucial metrics such as new and lost links, anchor text, link domains, Domain Authority, and others.
Ranking analysis and ranking opportunities reports are great for those who want to know more about the website's ranking performance on top keywords and the possible steps that can be taken for the keyword strategy.
Whatever information is needed to guide you in your SEO strategy, you can customize your reports to suit your needs or situation. Work closely with our Franchise SEO experts to gain a bird's eye view of our brand's SEO strategy and decide the most cost-efficient way to increase brand awareness and maximize conversions.